Minister Cwele speaks on MTN's Nigeria fine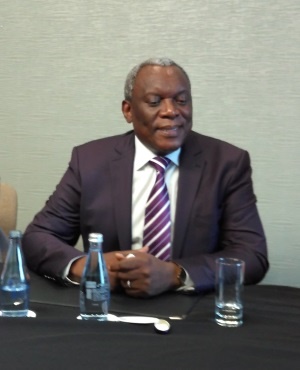 Johannesburg – Mobile network MTN hasn't yet asked South Africa's department of telecommunications and postal services for help regarding its multi-billion dollar fine in Nigeria.
This was according to Minister Siyabonga Cwele in an interview along the sidelines of a Telkom round-table discussion in Sandton on Thursday.
MTN announced on October 26 that the Nigerian Communications Commission (NCC) had fined it $5.2bn for failing to disconnect up to five million unregistered SIM cards in that country in a timely manner. MTN is Nigeria's biggest mobile network with over 60 million subscribers in that country.
However, in a market update to shareholders on Thursday, MTN said that the NCC had agreed to cut the fine to $3.4bn and that this penalty needed to be paid by December 31 2015. But in a twist on Friday, MTN said the NCC had issued the company a second letter in which the regulator said the fine had actually been reduced to $3.9bn and not $3.4bn.
In the wake of the announcement of the fine by MTN in October, it was also reported in November that government may have known about the fine before it was made public. MTN, though, told the newspaper that it was unaware of any interventions by government.
"We meet them (MTN) now and again, but they've not indicated yet that they need our assistance," Cwele told Fin24 on Thursday.
"Until MTN comes to ask us that they need our formal assistance, then we'll be working with our foreign affairs; we'll be working with our trade and industry. But we put an offer to them and they've not come back to us to say they need that formal intervention by us," Cwele said.
Meanwhile, Cwele has given some insight into how government at first responded to the announcement of the fine against MTN in October.
"I immediately contacted MTN, trying to find out what is happening and how best can we help, if any,"
"We were then advised that they were engaging these authorities," Cwele said.
Cwele further added that he was "happy" that regulators had reduced MTN's fine in Nigeria, although he still described the penalty as being "huge".
The minister also explained that government has had "informal" engagements with Nigeria over the fine.
"I think as much as the Nigerians are saying there was non-compliance with their laws, they are also concerned about the impact on investment. This has been our informal engagement: Just make sure that whatever you do doesn't have a negative impact on investment," Cwele said.
"And we fully understand their sovereignty in terms of applying their laws…whether it is in Uganda or other countries," Cwele added.
The minister said that the presidents of Africa's two biggest economies, Nigeria's Muhammadu Buhari and his counterpart Jacob Zuma, are expected to meet in Johannesburg this week to discuss the fine.
African leaders are in South Africa for the Forum of China-Africa Co-operation which is taking place on December 4-5.