Jonathan govt, PDP was all about filling their stomachs – Keyamo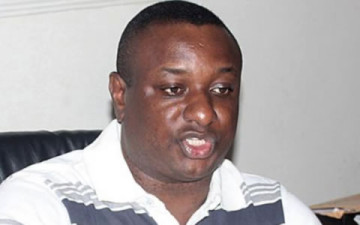 The first thought that would have come to many Nigerians on reading the newspaper headlines on Thursday, April 30, must have been to wonder if their president actually said those words or if he was quoted out of context.
"Those people (PDP members) running and those already cross carpeting", President Goodluck Jonathan was reported to have said, "will come back on an empty stomach because they (APC leaders) will touch the primary members of their party, before they get to you. They know you are coming because you are hungry. Before it will get to you, the food will be gone."
President Jonathan reportedly made the remarks while receiving the PDP campaign report from the Presidential Campaign Organisation (PCO) at the presidential villa, where he also urged the party and its members to sit tight and put its failures behind and help the party move forward.
Surprisingly, no confirmation or denial has come from the Presidency following the uproar and wide criticisms the statement has elicited.
The implication of the statement is that the president is confirming the popularly held view, which has often come against strong official refutation though, that public office is all about personal enrichment, where everyone goes to acquire material wealth and feed their stomach or goes to "chop".
Not a few Nigerians will consider the comment a degradation of the exalted office of the President of the Federal Republic of Nigeria. The statement apparently narrows the essence of governance to personal benefits and not its broad definition of the provision of security and welfare, social infrastructure, employment etcetera. As such the president has just told Nigerians that the PDP years in office were primarily to ensure that their stomachs especially those of public office-holders were not empty.
"Come and chop", first adopted by late Chief Sunday Afolabi, a PDP member and minister of internal affairs during Chief Olusegun Obasanjo's first tenure, when the late Bola Ige of defunct Alliance for Democracy (AD) (and whom Chief Afolabi was deputy governor to in old Oyo State) was invited and appointed minister of power, to be part of the unity government. The concept of 'stomach infrastructure' was later expanded by Governor Ayo Fayose of the PDP last year in Ekiti State, to imply the political philosophy of ensuring everyone gets his share from the booties of public office or so-called national cake. It has abashedly and gradually found a place in the Nigerian literary and political lexicon.
By this utterance, President Jonathan loudly reminds Nigerians that it has been merriment and sharing of common patrimony amongst the few privileged PDP elements in the last 16 years, otherwise, he would be very much encumbered to convince Nigerians on what he meant by "returning on an empty stomachs".
But this is what makes Nigeria a different clime where almost all manner of absurdities are tolerated. In some saner climes, such statements are very well dissected by the citizens who may force a president to resign.
Miffed by the (un)presidential statement, some Nigerians among whom are human rights lawyer and civil rights activist, Barr. Festus Keyamo spoke to Saturday Vanguard. Others were the National Chairman of the United Progressives Party (UPP) Chief Chekwas Okorie; Member representing Etche/Omuma Federal Constituency in the House of Representatives, Hon. Ogbonna Nwuke; and Hon. Solomon Edojah who has long joined APC.
Jonathan government and PDP was all about filling their stomachs – Keyamo
"My reaction the first day I heard the statement was that I immediately tweeted through my twitter handle @fkeyamo that this clearly confirms that the Jonathan government and PDP were all about filling their stomachs.
"That was an extremely careless utterance by the President, but it contains a real suspicion of truth. By his utterances and his hackneyed approach to governance, Jonathan painted a picture of someone not fit to be a Local Government Chairman what more a bigger office. In asmuch as I want to respect the institution of the Presidency, the very person who occupies it is debasing it by his actions and utterances.
"So, to protect the Presidency, we must carefully separate the occupant who is destroying it and let the world see him for who he is.
"My prayer is that may the circumstances that threw up a president who was never ready for that office never befall us again."
Statement, one of the several blunders of the President – Okorie
"That statement by President Jonathan, to me, is one of the several blunders the man is associated with when he speaks off-the-cuffs. Some times, he is not careful about his comments and he tends to attract too many criticisms.
"There is clear indication by his statement that the essence of joining a party is to go and feed one's stomach and pocket and therefore those leaving to PDP for APC will come empty handed.
"I thought that the reason to join a party is to render service to whatever constituency whether at the local or national level.
"I think there are many things he could have said to promote the benefit of remaining in PDP rather than retiring to material benefit. It is this materialism that the PDP is associated with and for which it is now on record that corruption has hit an all-time high during his regime.
"So, my advice to him is that if he cannot check his pronouncements, he should insist on a reading one so that some people could assist him there to make articulate views that could stand the test of time.
"Jonathan is not even associated with quotable quotes. This is an aspect of his leadership that is very poor."
Comment not presidential – Nwuke
"When I first saw the story, I ignored it because in my own opinion, it wasn't possible that a serving or outgoing president of this great country could make such statement. Nonetheless, I feel that the outburst of the president was not presidential."
Only food-is-ready people remain in PDP – Edojah
"Why would they come back? Except that the person left on the basis of food-is-ready is a hungry politician who is not desirous of service but desirous of food is ready. All the food is ready people are the ones remaining in the PDP. All the people remaining there are people who don't want to serve, greedy politicians who cheat their members.
"And I don't see any reason why anyone who means well for the country should remain in the PDP because the PDP as it is today is already highly impoverished by the leadership. They are already down. They are living a traumatized life.
"So, for somebody to say that if you leave, you will come back hungry, come back to meet what? To meet a set of tiny greedy leadership? So, that was not a fair comment.
"By the way, what is APC? APC is a conglomeration of parties including PDP. If you take away the PDP elements, there is no more APC. You don't forget, five governors left. In fact they were seven, but the two of them couldn't get the courage to complete the journey and they retreated for whatever reason. Some for fear of the unknown, others for protection from those in authority.
"PDP deceived most of its members, punished its members, particularly during the primaries, when most of us had what we called phantom primaries. We were duped. Primaries never took place and results were written and we had nowhere to complain to.
"I cannot hold forth for Mr. President because I am not his spokesperson but from hindsight and body language of Mr. President, people know that he, too, is not happy with the shenanigans that took the party.
Bottom line
Obviously, in the reckoning of many Nigerians, the outgoing President (mis)spoke but at the same time revealed what political leadership has actually been in Nigeria. Intrinsically, his statement showed more of what the cabal of the PDP circus has been in the last 16 years.