Gas Tanker in Nigeria Explodes, Killing Dozens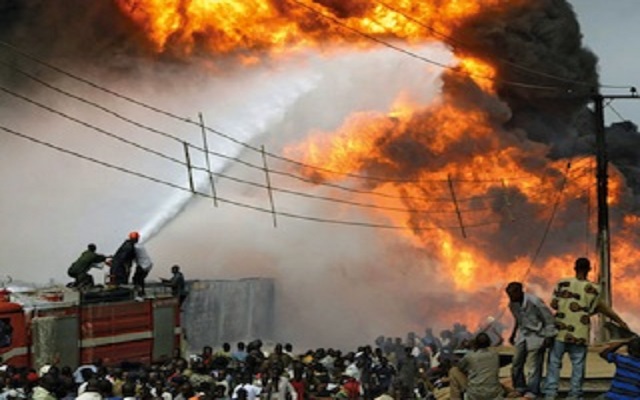 Dozens of people were killed when a tanker truck exploded outside a gas plant in southeastern Nigeria, President Muhammadu Buhari said in a statement on Friday.
The explosion on Thursday occurred as people gathered to buy cooking gas to prepare Christmas meals in the city of Nnewi, in Anambra State, said Chuma Ibeabuchi, secretary of the Red Cross in the state.
The presidential statement did not provide a toll, saying only that Mr. Buhari was "greatly shaken and shocked by such large-scale loss of human lives in a single-industrial accident," and the authorities and journalists provided widely different figures.
Before the president made his announcement, Alphonsus Okechukwu Ali, a spokesman for the national police in Anambra, said that six people who were outside the fence of the plant, owned by the Chicason Group, had died, and that two others were killed in a neighboring building. Six people were injured and taken to hospital, he said.
The Associated Press gave a much higher toll, however, and one reporter for the news agency counted more than 100 corpses. Reuters quoted a local journalist who provided a similar number.
Mr. Ali said that figure was "very, very wrong."
Mr. Ibeabuchi said he had seen four bodies at the scene, and had taken four injured people to the Nnamdi Azikiwe University Teaching Hospital in Nnewi.
Photographs posted online showed burned bodies and destroyed vehicles, and local news reports said the fire had raged for at least three hours before it was extinguished.
The cause of the explosion is still under investigation, the police said.
"My heart and prayers go out to these grieving families at this difficult and painful moment," Mr. Buhari said in his statement.