I'll Sweep Nigeria's Sports Sector Clean Of Corruption – Dalong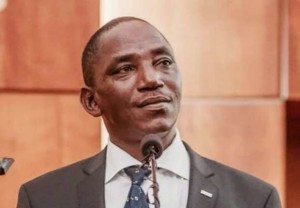 The Minister of Sports and Youth Development, Solomon Dalong, has continued to read the riot to act to corrupt persons in the sporting world, as he has vowed to fight corruption in the sports sector, "with everything" he has.
The determined minister, who was speaking at a seminar organized by the FCT chapter of the Sports Writers Association of Nigeria (SWAN) to mark the SWAN Week at the National Stadium, Abuja, yesterday, described corruption as a "great cancer crippling the growth of Nigeria in sports".
Dalong, who promised to step on toes in the execution of his duties, warned sports administrators, writers, coaches and athletes alike to desist from their corrupt tendencies or face the law.
He expressed appreciation to the leadership of the FCT chapter of SWAN for championing and playing critical role in the development of sports in the country and challenged administrators to live up to their responsibilities, in order to help sports development in the country.
He said his administration is open to constructive criticism. "I operate from a rough environment but now that I am in a comfort zone, if there is no criticism I will be tempted to believe that something is wrong.
"I should be criticised; not because I am Solomon Dalong, but, because in my capacity as a decision-maker, I made decisions not in the best interest of Nigeria. The bad thing is where no decision is taken. However, if you see the need to publish, you must have my own side of the story. If you accuse me of anything, then you must have your facts straight. If you seek to be mischievous or blackmail me, we will call the law to help us sort it all out," he advised the gathering of sports writers.
Dalong appealed to the sporting press to appreciate the present administration's change ideology and seat up to their responsibility of holding leaders accountable.
"If the association does not seat up, then it can also be blamed for the problems in the sports sector.
"If you call yourself a whistle-blower, are you blowing the whistle in respect to the corruption in sports or because you are a beneficiary? Your searchlight should not be limited to the minister and administrators alone, but on some of you who have been bought by questionable interests.
"I want us to fight corruption in this industry, because the stories of corruption in sports, particularly football, are alarming and discouraging. For me, I'll do my best to stem out corruption from sports. I have appealed to the NSCDG and other directors that nobody should come near my house with 'pregnant' envelopes, with the intention to bribe me. You cannot misappropriate funds meant for sports and disgrace this country at international competitions and you come in the night as minister to bribe me with the money or buy house for me to keep quiet. Sports is a unifying factor, which brings this nation together and it is the corruption of the administrators that have frustrated many young people into getting involved in other means of livelihood, because the sports which they love so much have been messed up by corrupt people.
"I'll not receive bribes and questionable gifts, because I will invite the law to reconcile you and me on that type of visit or gift," he warned.