Obasanjo commends Gbenga Daniel for establishing Nigeria's first University of Education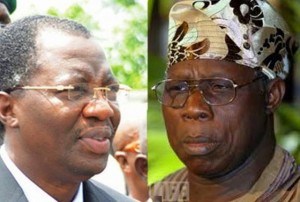 Former President Olusegun Obasanjo has commended the Ogun State Government for establishing the first University of Education in Nigeria.
Mr. Obasanjo also asked the current Ogun State Governor, Ibikunle Amosun, to commend his predecessor, Gbenga Daniel, for establishing the university.
Mr. Obasanjo stated this on Saturday at the 10-year anniversary as well as 16th & 17th Convocation, Ceremony of the institution, Tai Solarin University of Education, Ijebu-Ode.
He said his administration had proposed the establishment of Federal Universities of Education, but he was not sure why it was not done by the National University Commission, NUC.
"Well, the Ogun state government took this initiative and behold, we had the first University of Education in Ogun State. Mr. Governor, please help us to thank your predecessor for this," he said.
The former President, who was conferred with a honorary doctorate degree, alongside Africa's richest man, Aliko Dangote, and late Hannah Awolowo, said his administration proposed the upgrade of four federal colleges of education into full fledged universities. He said the process had commenced before the set back from the NUC.
"The idea of University of Education in Nigeria came up 12 years ago, when I was at the helm of affairs in the country. I had thought that if we have specialized University for Agriculture, specialized University for Science and Technology, why not for University of Education? Why can we not have a University designated for Education?
"At that time at the federal level, four Colleges of Education, which belong to the Federal Government would be turned into University of Education. They included the Adeyemi College of Education in Ondo, Alvan Ikoku College of Education, one in Kano and I think the other in Zaria. We were ready to go. Well, why we could not go, Peter Okebukola is here, you can ask him and he will tell you," he said.
Mr. Okebukola, a professor, was the head of the NUC under Mr. Obasanjo.
On his Honorary Degree, Mr. Obasanjo said he accepted it because of the late Tai Solarin who the university was named after; as well as Hannah Awolowo, both of whom he described as role models in education in Nigeria.
"Also, the 10th anniversary of the University. As you know, 10 years of an institution is not a joke, so I consider it an honour to come and join in the celebration. And lastly, because it is the first university of education in Nigeria. For these reasons, I found it irresistible not to be here."
The former president asked Nigerians to brace up for challenges caused by unemployment, pointing out that with education, particularly higher education, "we should be able to break cycle of poverty, through job and wealth creations. We can achieve this at both the federal, state, local, family and individual level.
"We must all see education as a tool to making positive contributions to our country. But, if after your education, there is no job, you must be able to think outside the box positively, that is one advantage education has provided for you and not making you a tool for evil machinations."
On the employment situation, he noted that "If there is no job for the unemployed to feed themselves and also to contribute to the development of the country then, we will all be sitting on gun powder".
"If university education was not for development then, it was not serving any useful purpose. It must be for development, personal, local, national and even global and that is very important".
Mr. Obasanjo, therefore, charged the 5,970 graduands to show quality and character in their various fields.
Earlier in her welcome address, the Vice Chancellor of the University, Oluyemisi Obilade, in her welcome address, said the university is a specialized university; uniquely positioned to respond to national and global educational needs for equipping graduands with the necessary skills and knowledge for effective teaching and learning.
"I will like to assure this august audience that this university s determined to continue with our positive transformation initiative to the best of our ability and within the limits of available resources so as to fast track the development of our university to the required world class standard in the shortest possible time".
"At ten, TASUED has good reasons for modest pride derived from the indisputable and varied contributions it has made towards the development and sustenance of teacher education in Nigeria", the professor said.