Masu Corona sun haura 400 a Kano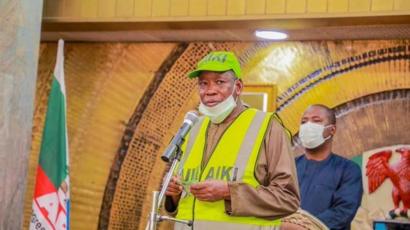 Gwamnatin jihar Kano ta tabbatar da cewa mutane 427 ne suka kamu da cutar Covid-19 a jihar.
Ma'aikatar lafiya ta Kano ta sanar a shafinta na Twitter cewa a ranar Laraba an samu karin mutane 30 da suka kamu da cutar a jihar.
Har ila yau, ma'aikatar lafiyar ta Kano ta ce an samu karin mutane 3 da aka sallama bayan sun warke daga cutar, yanzu haka mutane 6 ne suka warke daga Coronavirus a jihar Kano.
Sanarwar ma'aikatar lafiyan tace an samu karin mutane 5 da suka rasa ransu sanadiyyar cutar ta Corona, wanda ya kai adadin wadanda cutar ta hallaka a jihar zuwa mutane 13.
#COVID19KN Update as at 12:02am 7th May 2020
*️⃣ 30 new cases of #COVID19Kano cases confirmed.
*️⃣ Total confirmed cases in @KanostateNg are now 427.
*️⃣ 3 additional #COVID19Kano patients were successfully discharged.
*️⃣ 5 #COVID19Kano deaths were recorded. pic.twitter.com/XKjxpneu5m

— Kano State Ministry of Health (@KNSMOH) May 6, 2020
Karin labarai:
Yadda mutane 3 na farko suka warke daga Corona a Kano
Yadda Likitoci 34 suka kamu da Corona a Kano
Yanzu haka dai mutane 408 ne ke dauke da cutar wadanda suke karbar kulawa daga wurin jami'an lafiya.
Jihar Kano dai ita ce jiha ta biyu a jihohin dake da yawan wadanda suma kamu da cutar ta Covid-19 a kasarnan.
Ko a ranar Talatarnan an tabbatar da cewa likitoci 34 ne suka kamu da cutar ta Covid-19 a jihar ta Kano.
Yayinda a ranar Laraba kuma rahotonni suka tabbatar da cewa ma'aikatan jinya da Ungozoma 18 ne suka kamu da cutar ta Covid-19 a Kano.