An yiwa mutane 346 gwajin Corona a Sokoto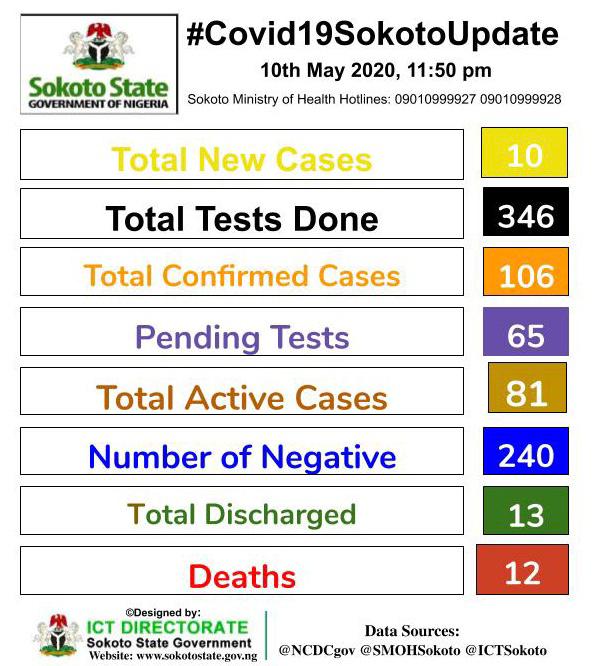 Gwamnatin jihar Sokoto tace an yiwa mutane 346 gwajin cutar Covid-19 a jihar.
Ma'aikatar lafiya ta jihar Sokoto ta sanar a ranar Lahadi ta shafinta na Twitter cewa sakamakon gwajin an gano mutane 106 na dauke da cutar a jihar.
#COVID19Sokoto: Update
As at Sunday 10/5/2020
Sokoto recorded 10 New cases, 3 Discharges and 2 Deaths

Total Samples collected = 411
Total tests done = 346
Total Confirmed = 106
Active Cases = 81
Discharged = 13
Deaths = 12

#StaySafe #StayAtHome #WashYourHands pic.twitter.com/UIGOAXjqKd

— Sokoto State Ministry Of Health – Nigeria (@SMOHSokoto) May 10, 2020
Haka kuma mutane 240 daga ciki an gano basa dauke da cutar, sai mutane 65 da suke zaman jiran sakamakon su.
Ma'aikatar lafiyan ta Sokoto tace mutane 13 ne suka warke daga cutar Covid-19 a jihar.
Sannan mutane 12 ne suka rasa ransu sanadiyyar cutar a Sokoto.
A gefe guda sauran masu dauke da cutar 81 suna cigaba da samun kulawa daga jami'an lafiya a cibiyar killace masu cutar dake Sokoto.
Karin labarai:
Covid-19: Tambuwal ya sanya dokar takaita zirga-zirga a Sokoto